Fast-fertig
May 4, 2021
2021-05-04 13:37
Fast-fertig
The alternative to German courses in the Philippines
A1 German Course
The best, location-independent preparation for the A1 German exam at the Goethe-Institut in Manila. Your teacher Reylita once had to pass the A1 exam herself and therefore she knows exactly what is important.
German course Philippines
Step by step to the A1 certificate
Learn from real Filipinos
You learn from Filipinos who speak and write German and who once had to pass the A1 certificate themselves.
Start now


Guaranteed learning success
Guaranteed learning success for the A1-German exam, just as it is required by the Goethe-Institut in Manila!
Start now


Your own Learning Rhythm
Students have the freedom to adapt their individual learning rhythm to a personal schedule or their own life situation.
Start now


100% Remote Learning
You don't need to travel to a physical school – learning from anywhere at any time, with online lessons
Start now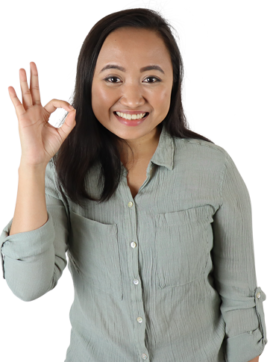 Your teacher Reylita will help you
I support my students in learning the German language. Before I married my husband, I had to learn German myself. Therefore I know all difficulties Filipinas have with the language. I will help you to overcome them so that you can easily achieve the A1 certificate.
As Featured in:
Do you have any questions?
We will be happy to answer any questions you have about the A1 course.
Phone No:
+49 (0) 156 78729421
Email Address:
info@phil-school.com
Meet your teacher
Reylita was once in the same situation as you!
Learn at your Pace
Register for the course now!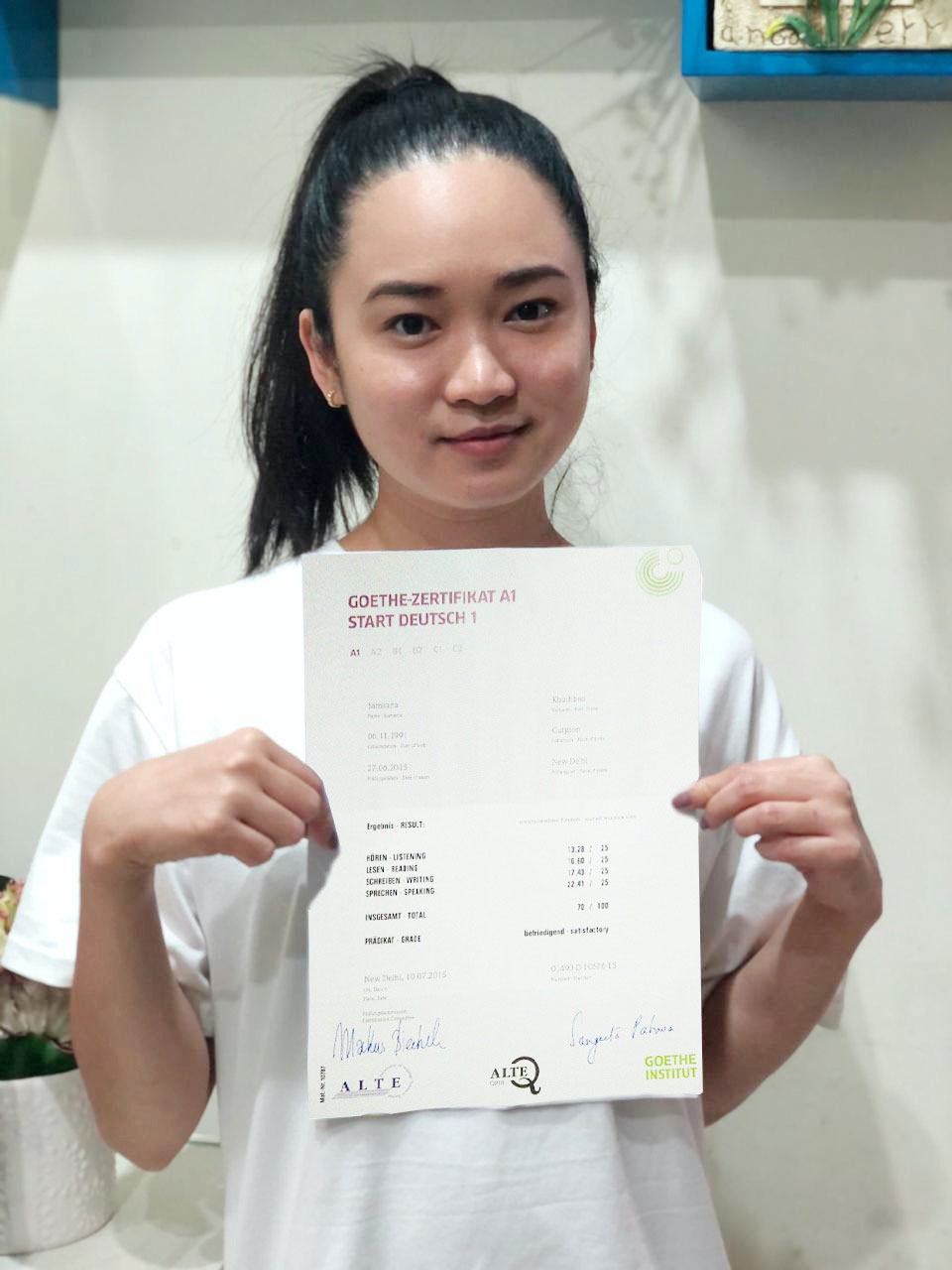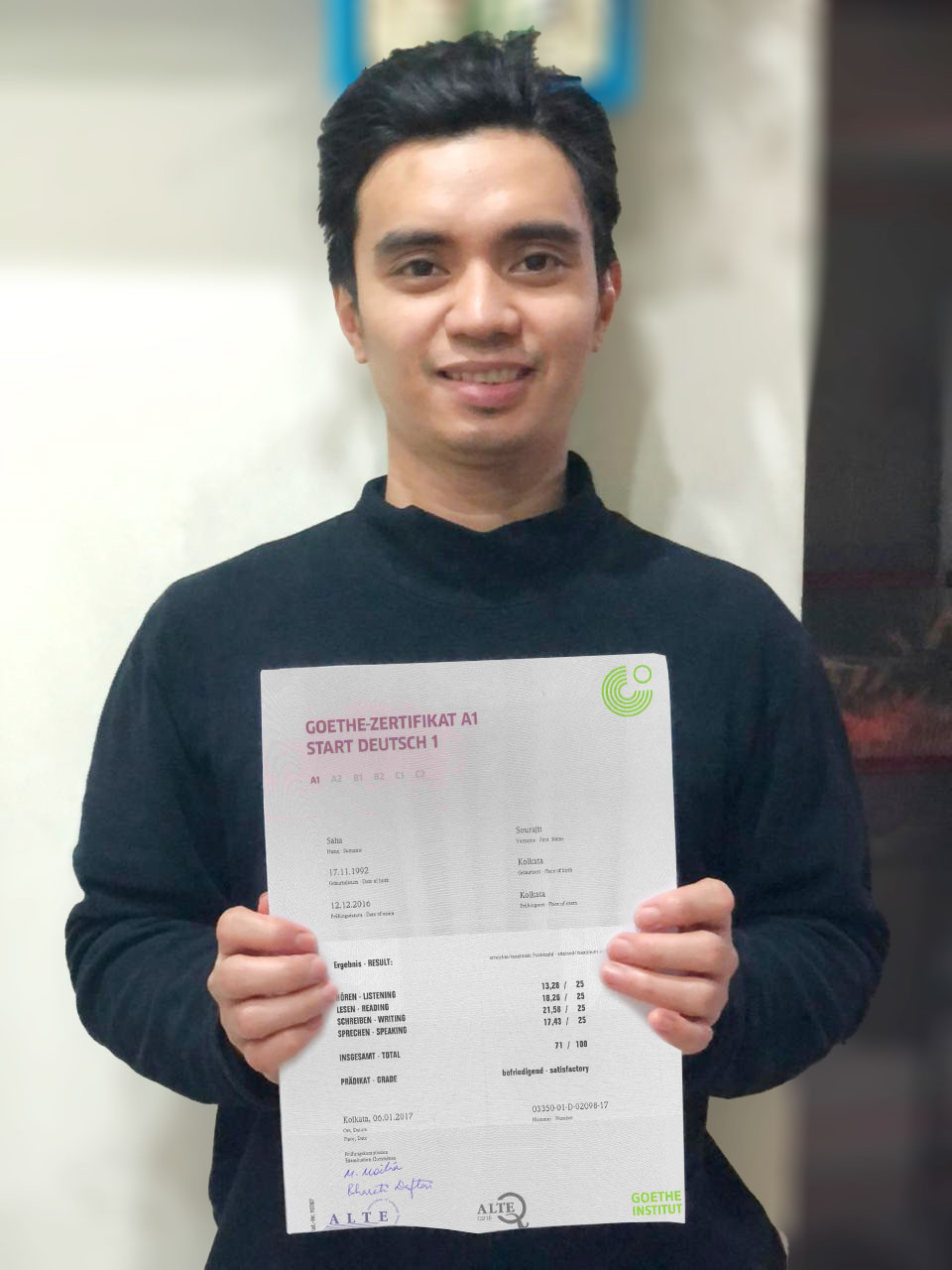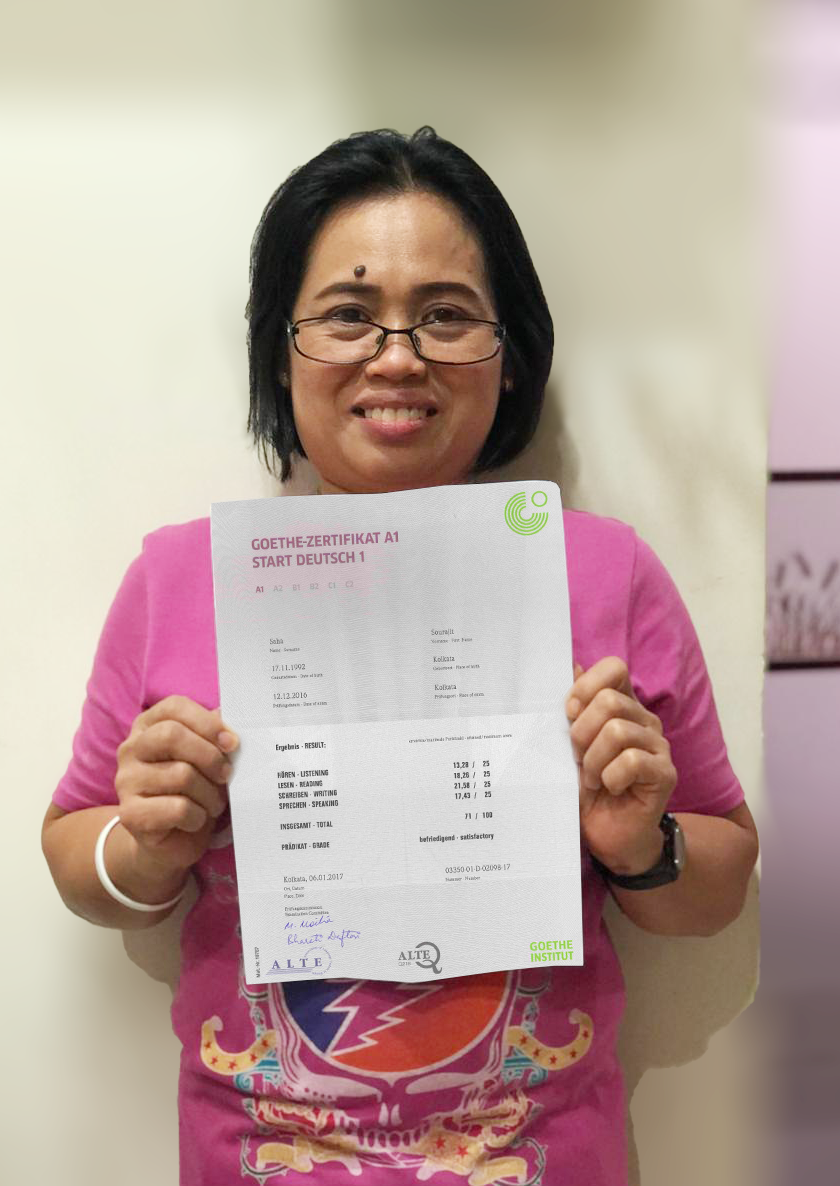 Previous
Next
What you can expect in the A1 course
In our course you will learn all the basics of the German language. Our goal is for you to pass the A1 certificate at the Goethe-Institut with easiness.
Basics of the German language
German Alphabet
Umlaut and Diphtong
German numbers 1 – 20
German numbers 20 – 100
Greetings and goodbye
The Grammar
German article
Country and languages
Personal pronoun & Conjugation
Verb
Conjugation of verb and Regular verb
Canjugation of verb & Irregular verb
Structure of Sentence
Adjective
Negative article
Perfekt haben
Perfekt sein
Nominative case
Accusative case
Dative case
Use war and hatte in a sentence
Possessive pronoun
W-Questions
Modal verb möchten
Time related questions
Gefallen und Missfallen ausdrücken
Interrogative pronoun welche
Adverbs of time
Personal pronoun in nominative
Personal pronoun in Accusative
Personal pronoun in Dative
Daily routine
Inseparable verbs
Speaking
Self introduction
Official time
Inofficial time
My Family
Giving direction
How's the weather today?
How to express yourself when ill?
Dining in a Restaurant
In the supermarket
What did you do on your vacation?
Writing
How to fill in a form
Writing an Invitation Letter
Writing a Formal Letter
8 reasons for an online language course
Why is Phil-School right for you?
Unlimited course access
If desired, intensive learning support and task control (sending in tasks), like in a distance learning course!
Access to countless video archive materials of a predetermined curriculum!
Pronunciation can be checked online with the online language trainer
Guaranteed learning success, already from the first lesson!
Optimal learning preparation for the A1 after completion of the course!
The German course is developed continuously and there is always new learning content!
Intensive preparation for the exam situation with a simulation
FAQ
Frequently asked questions and answers
Is the A1 German course the only language requirement, when applying for a visa?
Yes, after passing the A1 German course, there are no further language requirements for the applicant to successfully be issued a visa. The language certificate is internationally recognized and therefore serves as confirmation of basic language skills.
I live in the Philippines, where does the A1 exam take place?
The exam must be taken in a recognized institution. In the Philippines, this is the Goethe Institute in Manila. If you are not in the Philippines, you can take the exam at another Goethe-Institute anywhere in the world, or at other exam cooperation partners.
Is Reylita's A1 German course completely online?
Yes, the course is taught entirely online. After a short registration via my website, our students receive an effective lesson plan in the members area, with suitable learning materials for immediate and sustainable learning success. The students have the freedom to set the start date of the course themselves and to adapt the individual learning rhythm, to a personal schedule or their own life situation.
What exactly do I learn in the A1 German course?
My A1 German course includes intensive preparation for the exam in order to be able to handle the individual components "listening, reading, writing" smoothly. In addition, you will learn all the basics to be able to communicate well in German. This includes grammar, writing as well as speaking. Everything is easy to understand and build on each other.
Who am I (Reylita) and why should you do my German course?
My name is Reylita and I was once in the situation that I had to learn German, in order to get a visa.
As a German-speaking Filipina, I am aware of all the obstacles Filipinos have with this difficult language. Meanwhile, after many years in Germany and further exams, I was able to continuously improve my language skills, both written and spoken.
What is better about my German course compared to others?
My students have the freedom to use my course anytime and anywhere and can adapt their learning rhythm to their own life situation.
Thanks to my many years of experience, I can ensure that all the necessary language skills are learned, so that you are highly likely to pass the A1 exam the first time. That's exactly what my course was designed for. The correspondence is handled by us in perfect Filipino, English and German.